COPYRIGHT 2013 DICK NEWELL


ANALYZING THE MULE DEER TRACK

This ungulate with cloven hooves really has four digits on each foot. Digits number three and four form the two halves of the hoof and digits two and five are its dew claws. Digit number one no longer exists. These heart shaped tracks point in the direction of travel and the front tip of the hoof will dig deeper in to the substrate.
Front~Rear:
The front tracks are larger and may be more splayed than the rear and the dew claws on the front leg are closer to the ground and thus show more often. When the dew claws register they will be pointed out at a 30 angle behind the hoof. The rear track is smaller than the front and will usually be seen on top of the front track in a direct register. These rear foot dew claws, if seen will be pointing straight ahead.
Right~Left:
The outer half of each hoof is slightly longer.
Gait:
Common gaits include the walk, a trot or when startled, a stiff legged stot.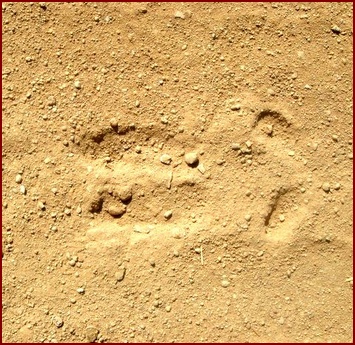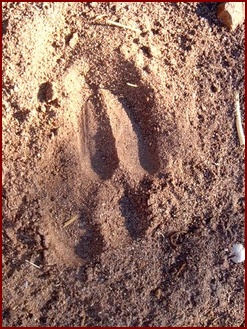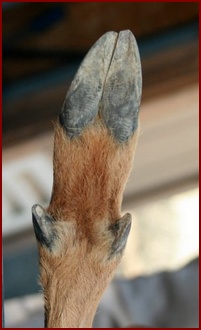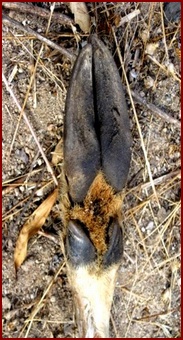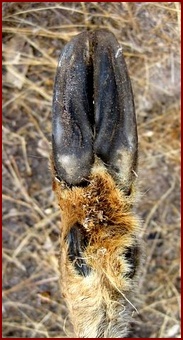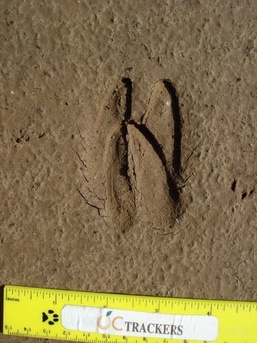 Deer have no incisors in the upper front part of their jaws and so their browsing leaves shredding marks that are easy to identify. Compare these torn pieces of a stem with those made on similar material by the sharp teeth of a rabbit.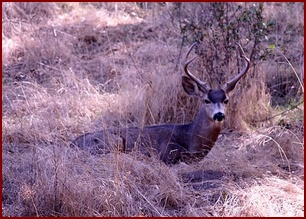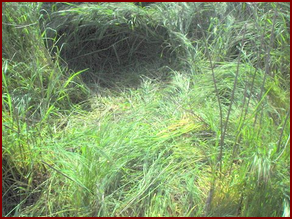 Deer day-beds are often little more than a kidney-bean shaped three to four foot depression in the grass. These beds will often be found on a hillside under a shade source such as an Oak.