COPYRIGHT 2009 DICK NEWELL

ANALYZING THE RABBIT TRACK

Front~Rear:
The front track is shorter and narrower than the rear and a fifth digit is possible.
The rear track is much longer assuming that it registers completely.
Gait:
A hop or a gallop are the most frequently observed gaits for this animal.
Observing the pattern of tracks is often the give away for this species. Its long rear feet and smaller front feet appear "pointed" in its direction of travel and the leading tip of the track will be deeper into the substrate. On hard surfaces often only the claws will register. While this animal is usually thought of as having four digits front and back, in reality there is a fifth digit
*
on the inside of the front foot that will show under some conditions.
Right~Left:
The outside edge of the track has a dark shadow and appears to be longer. The claws inside the track are arranged to look like a "C" with the open space facing towards the body. Position of the track within the pattern will also indicate which foot you are observing.

Rabbits have sharp, angled incisors on their upper and lower jaws making their browse marks distinctive. Note the clean 45 degree angle cut shown here.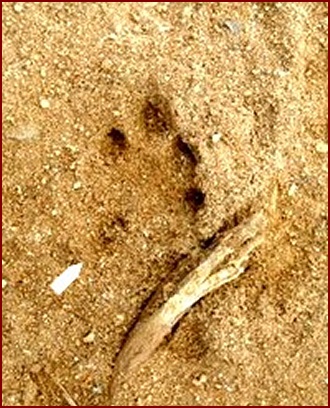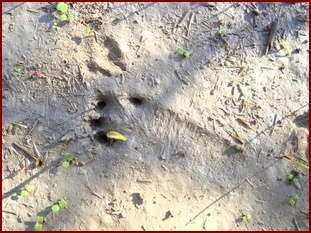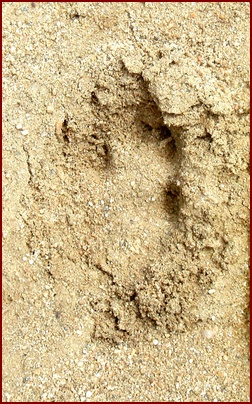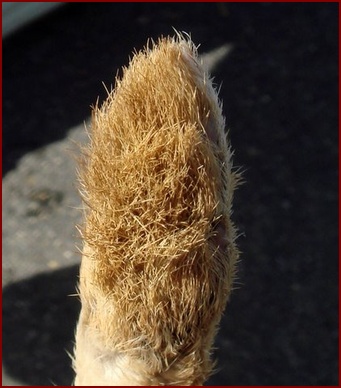 The bottom of a rabbit's foot is densely covered with fur and its claws may not show in the track.